Best Beaches in Milan – What You Need to Know Before You Go!
When you think of Milan, Italy, images of fashion, art, and delicious foods likely come to mind. However, Milan offers more than just urban charm; it's home to some beautiful beaches that offer an escape from the city life. In this guide, we will take you on a journey to explore the best beaches in Milan, offering fun activities, relaxation, and a taste of Italian coastal beauty.
1) Idyllic Lake Como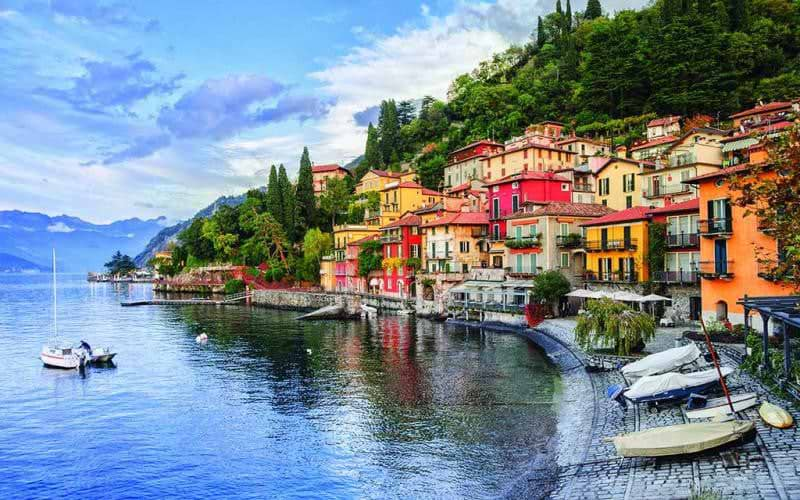 Lake Como, situated approximately an hour's drive from Milan, is renowned for its breathtaking landscapes and elegant villas. While not a traditional beach destination, the shores of Lake Como offer a unique experience for visitors seeking to take a break from city life. Here, you can enjoy watching the waves of the lake crashing against the pebbly shores and take in the stunning views of the surrounding mountains.
One of the most popular areas to visit on Lake Como is Bellagio, known as the "Pearl of the Lake." With its charming cobblestone streets, historic architecture, and gardens, Bellagio is a delightful town to explore. You can also swim in the clear waters of Lake Como at various points along the shoreline. For a true beach experience, head to Lido di Lenno, where you can rent sunbeds, enjoy water sports, or simply relax in the sun.
This lake has a 4.7 out of 5 on Google reviews, making it popular among tourists and locals. The beaches on the lake do get a little crowded during the summer months, so be sure to go early in the day to get a good spot. Also, be sure to bring flip flops or some footwear while on the beaches as there are rocks.
2) Sirmione on Lake Garda
Lake Garda, Italy's largest lake, offers a bunch of beachside activities, and Sirmione is one of the best locations on the southern shore. Approximately an hour and a half from Milan, Sirmione is known for its medieval charm, thermal baths, and the striking Scaliger Castle. The town also has several lovely beaches along its shore, making it a perfect day trip from Milan.
One of the most popular spots for sunbathing and swimming is Jamaica Beach (Spiaggia Jamaica), known for its clear waters and the opportunity to rent sun loungers and umbrellas. The medieval charm of Sirmione, combined with its relaxing beaches, make it a must-visit destination for those looking to escape Milan's hustle and bustle.
This is a must visit location for swimming and exploring the medieval castle. The Scalifer Castle was built in the 13th century to defend the nearby ports. The castle itself looks like a scene staight from Pirates of the Caribbean. It's perfect for people who love history and want to explore beautiful castles and gorgeous beaches.
The town nearby holds even more historical monuments like the church of Sant'Anna della Rocca and the church of San Pietro in Mavino. These churches hold amazing history from as far back as the year 765. It is a wonderful place to explore with stunning views, exciting history, and amazing beaches.
3) The Riviera of the North: Lake Maggiore
Lake Maggiore, another gem in northern Italy, is located about an hour and a half from Milan. This charming destination features the Borromean Islands, lush gardens, and a lovely lakeside trails. Stresa, a picturesque town on the western shore, is an ideal starting point for exploring the beauty of Lake Maggiore.
While the lakefront in Stresa may not be a typical sandy beach, it offers a calm atmosphere to unwind and enjoy the views of the Borromean Islands. Take a leisurely stroll along the lakeside promenade and visit the beautiful Villa Pallavicino Park. For a more beach-like experience, you can head to the nearby town of Baveno, where you'll find a sandy shoreline perfect for a day of relaxation.
The lake holds a 4.7 out of five stars on Google reviews. This beautiful lake is loved by everyone who visits. Most agree this is a great place to visit when traveling Northern Italy. It has ancient villas that were owned by ancient nobles, flourishing vegetation, and stunning mountains to explore.
4) Sun and Sand on Lake Iseo
Lake Iseo, located just over an hour from Milan, is a serene destination that remains relatively undiscovered by tourists. The lake offers the perfect balance of natural beauty and relaxation, making it an ideal escape for those seeking a peaceful beach experience.
One of the most popular spots on Lake Iseo is the town of Sarnico. Here, you can find a pebble beach and clear waters, along with various cafes and restaurants. Rent a kayak or paddleboard to explore the lake's pristine waters or simply unwind on the shore while enjoying the picturesque surroundings. Lake Iseo's beauty makes it an excellent choice for a day trip from Milan.
Nestled just over an hour away from the bustling city of Milan, Lake Iseo stands as a hidden gem, a serene haven that remains relatively undiscovered by tourists. This relaxing destination offers the perfect balance of natural beauty and peace, creating a quiet beach experience away from the busy city.
The charming town of Sarnico is a highlight on the shores of Lake Iseo. There are plenty of Cafes and restaurants on the beach, offering delightful options for a leisurely meal or a refreshing drink. For those seeking a more active experience, renting a kayak or paddleboard is a fantastic way to enjoy Lake Iseo. Paddling across the lake, surrounded by untouched natural beauty, is an amazing way to enjoy Northern Italy.
Alternatively, for those wanting a more laid-back experience, the pebble beach of Sarnico invites you to simply relax on the shore. Calm ambiance and stunning views on the lake proves to be an excellent choice for a day trip from Milan.
Whether you seek an active day of water exploration or a leisurely day soaking in the sun, Lake Iseo provides a perfect retreat from the hustle and bustle of city life.
6) Gravedona on Lake Como
For a more remote and unspoiled beach experience on Lake Como, Gravedona, approximately an hour and a half from Milan, is a fantastic choice. This charming town offers a more peaceful alternative to the busier spots on the lake.
The beach at Gravedona is a mix of pebbles and sand, and it's perfect for swimming and sunbathing. The crystal-clear waters of Lake Como and the backdrop of the surrounding mountains create a picturesque setting. Gravedona is also home to historic churches and charming villas, adding cultural depth to your beach excursion.
Beyond the natural beauty of Gravedona's beach, the town itself adds a layer of cultural richness to your lakeside journey. There are plenty of historic churches to explore that have stood there for hundreds of years. Charming restaurants nearby provide the perfect setting to immerse yourself in the local atmosphere. We recommend enjoying a leisurely meal at one of the quaint cafes around town. Gravedona's rich culture adds a unique aspect to your beach experience, allowing you to seamlessly blend moments of relaxation with a touch of exploration.
As you stroll through the narrow streets of Gravedona, you'll discover a town that has preserved its authenticity, offering a genuine and unspoiled glimpse into the charm of Lake Como. The slower pace of life here allows for a more profound connection with both nature and history, creating a beach experience that transcends the ordinary.
In essence, Gravedona emerges as a hidden gem on Lake Como, providing a haven for those seeking a quieter and more secluded lakeside escape. Whether you're drawn to the soothing rhythm of waves, the gorgeous beach, or the culture historic sites, Gravedona promises a unique experience for those wanting to relax on a beach near Milan.

7) Montorfano: Milan's Secret Oasis
If you're looking for a beach destination closer to Milan, Montorfano is a hidden oasis located just 30 minutes away. This small lake, surrounded by lush greenery, offers a peaceful retreat from the city's chaos.
Montorfano is a calm spot to relax by the water, swim, or enjoy a picnic with friends and family. The lake's clear waters make it a pleasant escape for both locals and tourists seeking a quick and easy getaway from Milan.
Whether you prefer a leisurely swim, a quiet moment of reflection, or a delightful picnic with friends and family, the lake accommodates a range of pursuits. The clear waters of Montorfano add to the calm retreat, creating a refreshing escape for those in need of a quick getaway from Milan.
The proximity of Montorfano to the city allows for spontaneous day trips or even a brief afternoon excursion. As you immerse yourself in the beauty of this hidden gem, surrounded by the soothing sounds of nature, you'll find a calm beach that complements your time spent in Milan.
Montorfano stands as a example that a peaceful beach doesn't need to be far away. Whether it's a solo moment of reflection, a family outing, or a casual day by the water with friends, Montorfano's is the perfect spot for a lakeside escape just moments away from Milan.
8) Beach Clubs on Lake Maggiore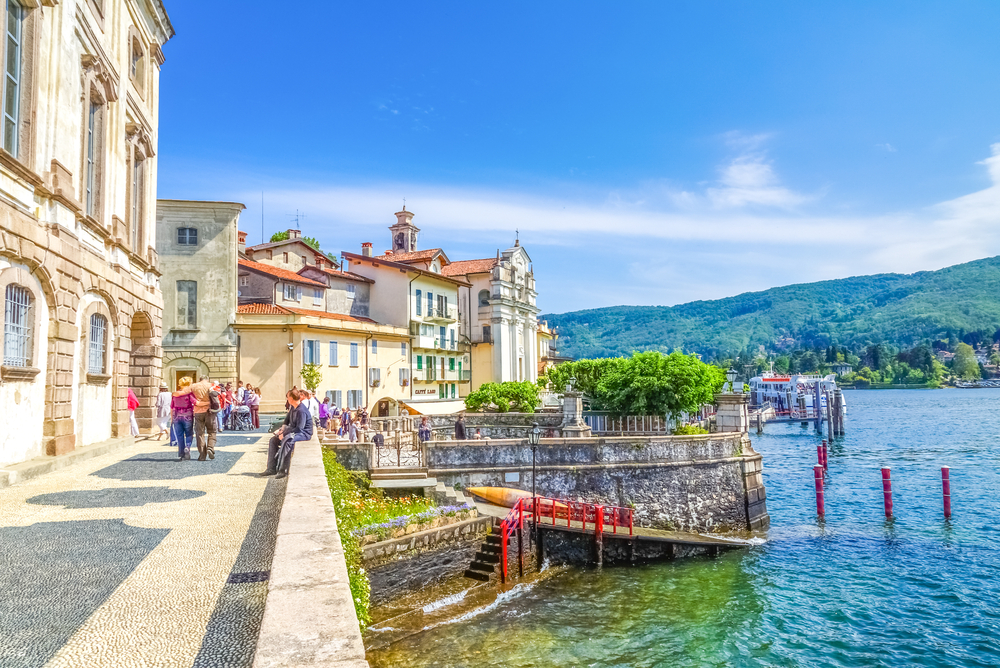 Lake Maggiore is home to some of the most luxurious beach clubs in the region, offering a rich beach experience. These clubs combine stunning lakefront locations with amenities such as fine dining, cocktails, and water sports.
The Lido di Cannero and Lido di Stresa are two renowned beach clubs where you can enjoy the ultimate in comfort and relaxation. Sink into a plush sunbed, sip on a cocktail, and admire the breathtaking views of Lake Maggiore and the surrounding mountains. These beach clubs are perfect for those looking to combine the elegance of Milan with a beach escape.
Picture yourself sinking into a plush sunbed, the gentle spashing of the lake creating a soothing soundtrack to your day. You can enjoy some amazing dining options and cocktails without even leaving the beach.
The real benefit of these beach clubs is the panoramic sights they offer. From the shores of Lake Maggiore, you can enjoy breathtaking views of the glistening waters surrounding Italian mountains. Whether you're in the mood for a leisurely day of sunbathing, water sports, or simply savoring the finer things in life, these clubs cater to those seeking a bit of lakeside luxury.
9) Gavirate on Lake Varese
Gavirate, located about an hour's drive from Milan, sits on the shores of Lake Varese. This charming town offers a peaceful lakeside atmosphere with opportunities for rowing, sailing, and leisurely walks along the lake. Lake Varese is known for its rowing activities and Gavirate is a hub for rowing enthusiasts. The town's lakeside setting, combined with the water sports, makes it an excellent destination for those looking for a more active lakeside experience.
The lakeside setting of Gavirate also creates the perfect environment for a relaxing beach day. Lake Varese is great for leisurely strolls, allowing visitors to immerse themselves in the beauty of the surroundings. For those seeking a more active lakeside experience, sailing is a perfect way to explore Gavirate. Whether you're a new or an experienced sailor, Lake Varese provides a great spot to sail around.
Gavirate makes our list as it is and excellent destination for those wanting a lakeside experience with amazing views and fun beach activities. Whether you choose to engage in the town's rowing culture, embark on a sailing adventure, or simply enjoy a leisurely lakeside walk, Gavirate invites you to immerse yourself in the natural beauty and recreational opportunities that define this charming retreat.
These destinations near Milan provide a range of experiences, from peaceful lakeside relaxation to vibrant markets and outdoor activities, all while offering beautiful views of the surrounding lakes and natural landscapes. Whether you seek tranquility, cultural exploration, or adventure, these locations have something to offer for every traveler.
Milan, known for its fashion, art, and cuisine, surprises visitors with its hidden gems—beautiful beaches that offer a serene escape from city life. From the picturesque Lake Como to the tranquil Lake Iseo and the vibrant urban beaches of Navigli, Milan's diverse beach destinations provide a unique blend of relaxation and adventure.
So, if you're planning a trip to Milan and want to take a break from the city's hustle and bustle, consider adding a beach excursion to your itinerary. Whether you're seeking a day trip to Lake Como or a weekend getaway to Lake Maggiore, Milan's best beaches promise a memorable experience that combines the best of both worlds: urban sophistication and natural beauty. Discover these hidden gems and experience the "Best Beaches in Milan" for yourself.
If your interested in traveling to LA or any other destination, check out our Main Page where we post free flights from over 200 airports in the United States.